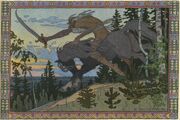 The Death of Koschei the Deathless
or
Marya Morevna
is a Russian fairy tale collected by Alexander Afanasyev in
Narodnye russkie skazki
and included by Andrew Lang in
The Red Fairy Book
. The character
Koschei
is an evil immortal man who menaces young women with his magic.
Ivan Tsarevich had three sisters. The first was Princess Marya, the second was Princess Olga, the third was Princess Anna. After his parents die and sisters get married to three wizards, he leaves his home in search of his sisters. He meets Marya Morevna, the beautiful warrior princess, and gets married to her. After a while she announces she is going to go to war and tells Ivan not to open the door of the dungeon in the castle they live in while she will be away. Overcome by the desire to know what the dungeon holds, he opens the door soon after her departure and finds Koschei, chained and emaciated. Koschei asks Ivan to bring him some water; Ivan does so. After Koschei drinks twelve buckets of water, his magic powers return to him, he tears his chains and disappears. Soon after Ivan finds out that Koschei took Marya Morevna away, and chases him. When he gets him for the first time, Koschei tells Ivan to let him go, but Ivan doesn't give in, and Koschei kills him, puts his remains into a barrel and throws it into the sea. Ivan is revived by his sisters' husbands, powerful wizards, who can transform into birds of prey. They tell him Koschei has a magic horse and Ivan should go to Baba Yaga to get one too, or else he won't be able to defeat Koschei. After Ivan stands Yaga's tests and gets the horse, he fights with Koschei, kills him and burns his body. Marya Morevna returns to Ivan, and they celebrate his victory with his sisters and their husbands.
Ad blocker interference detected!
Wikia is a free-to-use site that makes money from advertising. We have a modified experience for viewers using ad blockers

Wikia is not accessible if you've made further modifications. Remove the custom ad blocker rule(s) and the page will load as expected.